The Renaissance that builds Value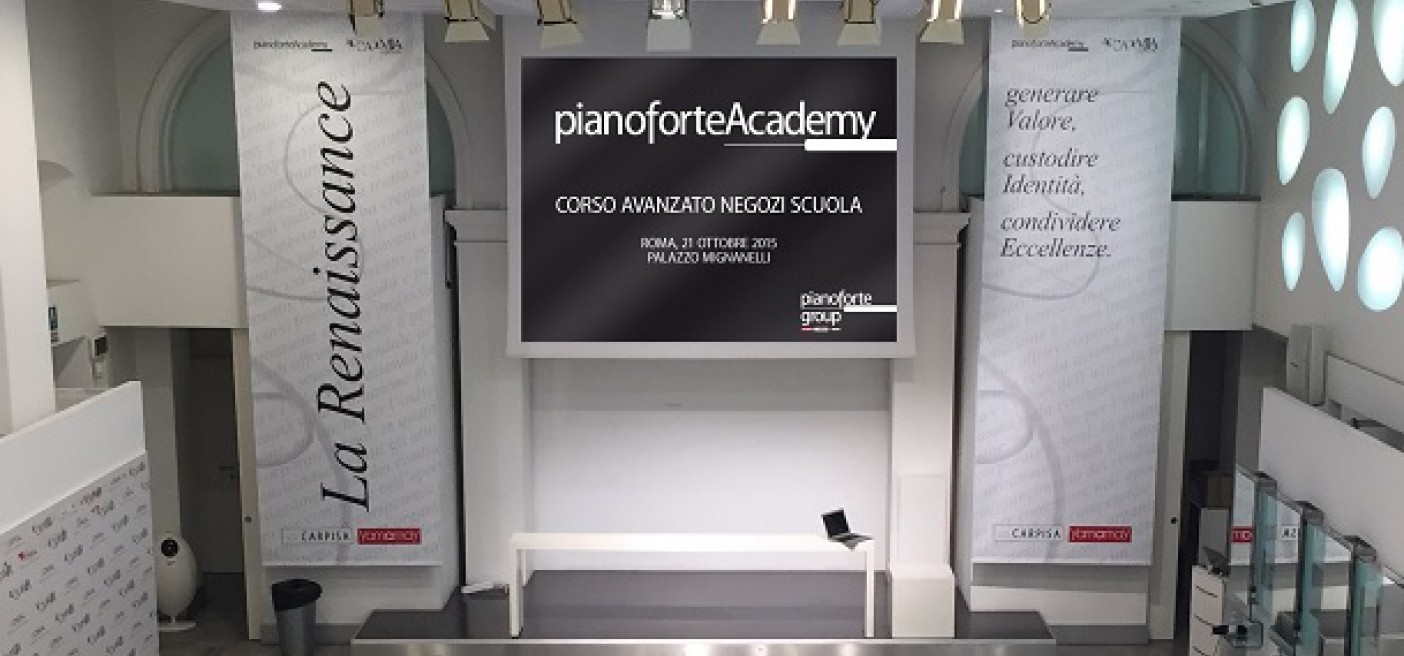 On October 21 the School Shop Advanced Course for Yamamay and Carpisa was held in Rome at Palazzo Mignanelli, the prestigious headquarters of the L'Oréal Academy.
An important event for the company and a moment to share ideas where District Managers and Store Managers of the School Shops and Top Locations of the two brands – the real excellence of the Pianoforte Holding – met.
Roberto Manzi, Pianoforte Academy Director, welcomed the staff and kicked off the "Renaissance" training together with Cristina Pisani, management consultant and expert in visual merchandising.
The Renaissance explained through the history of the great Maecenas Pope Julios II who was able to enhance and got the best of Raffaello and Michelangelo, who were the two best artists of his era. Julios II's ability to find out two indisputable talents and to help them to achieve amazing results (like the decoration of the ceiling of the Sistine Chapel), gave us the chance to metaphorically discuss about universal concepts such as the capacity to build Value, to treasure Identity and to share Excellences.
The morning's plenary session, in which also the "householders" Fabio Nicolai- PR manager of the L'Oréal Professionel division- and Domenico Picariello- L'Oréal Trainer- took part, was the occasion to discuss about beauty in the meaning of a type of language.
In the afternoon, instead, 4 workshops were organized. The trainers of the two headquarters guided the participants, which were divided into groups of 15 people, through round-table discussions to compare the different experiences gained, for example, in business management, human resource organization and brand identity. The aim is to move towards a change management process through the sharing of best practice, the alignment of the working process, the strengthening of the managerial expertise.
Surprise seminar for the managers of the headquarters who let themselves be pleasantly involved in: the Master of art-therapy Sandro Marinacci guided them in a workshop able to promote the expression of every single personality and, in the meantime, the relationship with the others.
In a word, an important goal for the Pianoforte Academy. "That's not a finishing point but rather this is just the beginning of a full managerial training program", said Renato Andò, COO of the Group, at the end of the day. A double mission: the development of our resources and their involvement in the creation and the alignment of the operational processes of the Pianoforte Holding.